On the Kindle Paperwhite we found the following font: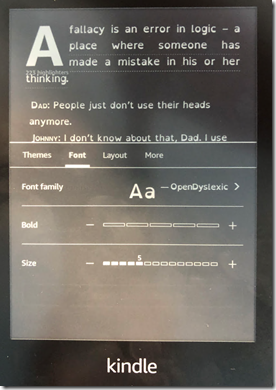 kindle: OpenDyslexic Font Family
For those that have dealt with the process of learning to cope with and work with dyslexia this font is a life saver. It makes reading so much easier on the brain allowing for longer reads before the brain starts indicating it is time to stop.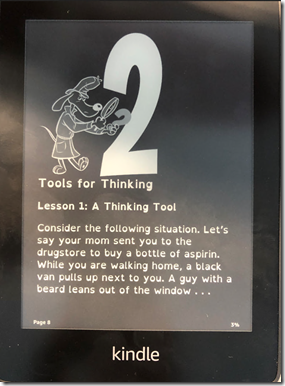 kindle: OpenDyslexic font in The Fallacy Detective
This is a winner for those learning to read to facilitate a positive reading experience and for those well down the coping mechanism road for reading.
There is still a preference for a book in-hand here, but nothing beats having the library at hand and the ability to dive back in to a book for longer periods of time!
Have a fantastic Labour Day Long Weekend everyone! 🙂
EDIT 2020-09-04: We should have did a bit of searching before hitting POST!
Philip Elder
Microsoft High Availability MVP
MPECS Inc.
www.s2d.rocks !
Our Web Site