We've been running Haier commercial dual hose 13K BTU portable air conditioners for a long time now.
The model we were using went through a design "refresh" within the last year.
The "new" model has had pretty much a 100% fail rate.
In a few locations where a single hose was available we tried the 12K BTU Haier A/C units but the squirrel cage fans kept exploding on the hot side.
It seems that Haier imported that bad setup into the refreshed 13K BTU dual hose units: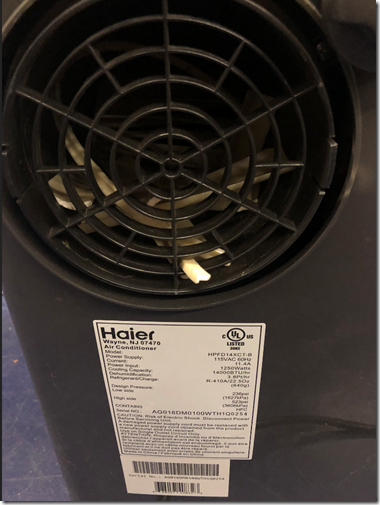 Haier HPFD14XCT-B Hot Side Fan Exploded
Needless to say, we've written off any possibility of purchasing another Haier product and highly recommend avoiding their portable A/C units going forward.
Feel free to PING us with your recommendations please. 🙂
Philip Elder
Microsoft High Availability MVP
MPECS Inc.
www.s2d.rocks !
Our Web Site