We've been seeing mention of issues with printer and/or MFP drivers being the source of conflict with the current as of this writing Windows 10 20H2 cumulative update. Microsoft has released two out-of-band updates to try and address the problems being seen.
What doesn't seem to be clear is whether it is v3 or v4 type printer drivers causing the issue.
There's some good explanation in this post
What we're finding is that education on the fact that there is a v4 driver model is virtually nil.
We discovered the difference when we were troubleshooting a print problem in a Remote Desktop Farm situation where remote users _looked_ to have the identical driver installed, that is version and architecture, but things would just not work.
As it turns out, HP distinguished between v3 and v4 drivers using a hyphen.
HP LaserJet M9999 PCL 6
HP LaserJet M9999 PCL-6
Any guesses on which one is v4? It's the one _with_ the hyphen. Back then, there was no distinction on any printer/MFP/copier driver web site as to what driver type we were dealing with.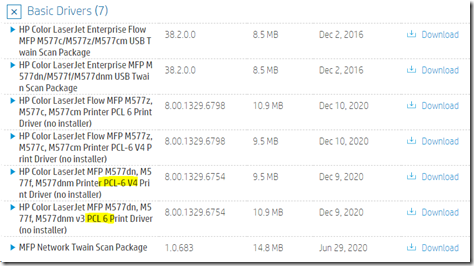 HP Color LaserJet Enterprise MFP M577 Driver Page
We ended up having to reset the entire print subsystem across all of the session hosts because we discovered that having v3 and v4 drivers in the same OS would cause some really weird issues but in a random inconsistent way.
Control Panel –> Printers & Devices –> BLANK

Yeah, no printers listed. Result? Full reset.

Session Host v3 –> Remote System v4 = No Print
It is our preference to use the product specific driver as it is fully feature capable versus the cookie cutter universal print drivers (UPDs) out there. We've had issues with UPDs especially in Remote Desktop Farm settings and at firms that utilize some of the more advanced features of their MFPs.
To date, we've not seen any issues with printing at client sites that have taken the Windows 10 20H2 cumulative update.
Conclusion
The moral of the story is to make sure all driver deployments are driver model v4 when and where possible. For more complex environments that require older devices, then there may need to be some creativity to keep those devices segmented from the regular user pool to limit exposure to driver related issues.
In RD Farm settings, that may mean a dedicated Collection and session host with the app that uses that old printer driver set up so as to not disturb the production session hosts.
Note that a refresh of the printers themselves may not be needed if the vendor has a v4 driver available.
And finally, vendors need to make it clear what driver model their drivers are using.
Philip Elder
Microsoft High Availability MVP
MPECS Inc.
www.s2d.rocks !
Our Web Site
PowerShell and CMD Guides