It's pretty obvious that we're in the height of the Christmas purchasing season.
So, when something like this shows up in the Inbox if one isn't thinking, one clicks and pays.
Right?
Well, in this case the Scrooge McDuck won out over paying the "fee" so a search of Intelcom's Site turned up nothing.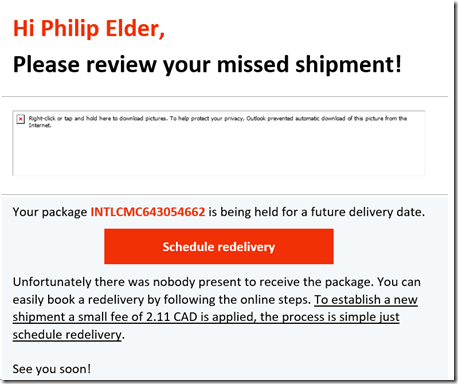 Intelcom Courier: Phish E-mail
The Chat indicated to call in.
Okay, so we did.
30 minutes later, the person that picked up indicated they didn't have that tracking ID in their system.
Hmmmm …
The brain finally kicked in:

Phish: Hover that Link!
As it turns out, Scrooge McDuck was right about there being at least one or two more delivery attempts if the package was real and that they don't "normally" charge for that service.
Moral of the Story?
Hover that Link!
Oh, and buy local! 🙂
Philip Elder
Microsoft High Availability MVP
MPECS Inc.
www.mpecsinc.com