With the demise of the CoPilot service we've been using for about a decade now, we had to look for something to replace it.
CoPilot was a simple to use remote desktop shadowing product that was very reasonable in cost.
What we've come to use is free and built-in to Windows: Quick Assist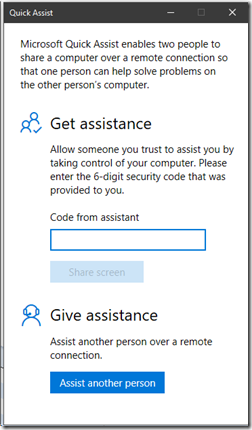 Microsoft Quick Assist
We click the Assist another person button then sign-in with our Microsoft ID.
Once we're signed in, we are presented with a Security Code that we can share with the user we'll be helping: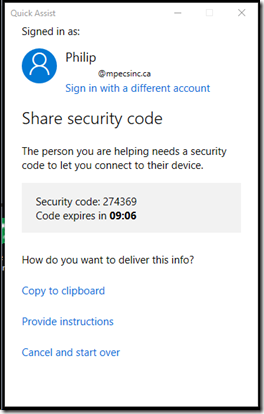 Microsoft Quick Assist – Share security code
Note that the countdown timer will reset and a new code will be provided if the user does not connect within the 10 minute time frame. So, there's no need to be concerned that the Quick Assist session would require another Microsoft ID prompt.
Once connected we are able to toggle through the user's monitors if there are two or more connected. This is helpful as we support users that can have many more than two connected.
Once finished, we close the session as does the user.
No software to install. It's just there.
Philip Elder
Microsoft High Availability MVP
MPECS Inc.
Our Web Site
PowerShell and CMD Guides